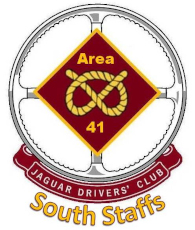 Welcome to JDC Area 41
Area 41 is a long established region of the Jaguar Drivers' Club – we celebrated our 40th anniversary in 2016.
We hold two regular meetings every month throughout the year and organise a number of events for our members – these include driving days, trips to Le Mans and Goodwood, barbecues, treasure hunts, guest speakers, a dinner dance, Jaguar Factory visits and much more. Sometimes we just get together for a social evening where we enjoy the company of like minded folks.
The club provides a good family atmosphere and is a valuable source of information about the best places locally for buying spares and having repairs carried out.
We are always pleased to welcome other Jaguar owners and even if you are not a member of the Jaguar Drivers, Club please feel free to come along to one of our meetings and see what we are all about.
If you would like to know more us and what we do then please e-mail us from the link on the Contacts page.
Committee Members
Chairman: Tony Mathers
Treasurer: Anthony Harris
Newsletter: Tony Mathers
Committee: Rhona Harris, Chris Randle, Cedric Randle, Brian Pinches, Steve Hall.